​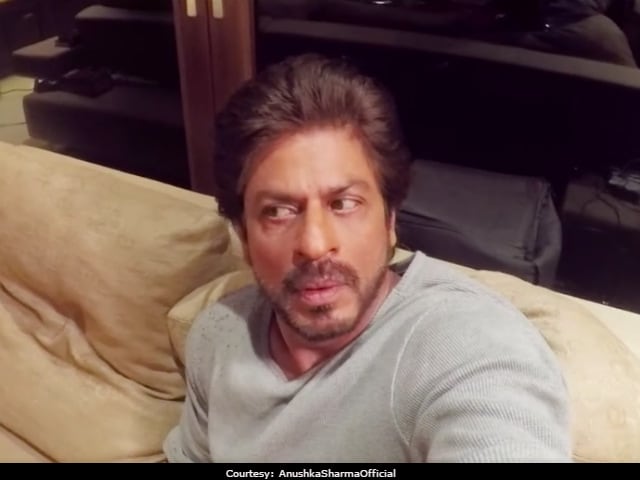 Can you see Shashi? Of course not (courtesy: AnushkaSharmaOfficial)
Anushka Sharma is very, very busy ahead of Phillauri, in which she plays a ghost bride

named Shashi. Shashi, the "friendly bhoot" is an explorer by nature and the recent destination which she checked off from her list is Mannat. Yes, that's superstar Shah Rukh Khan's residence in Mumbai. Inside Mannat, Shah Rukh was enjoying a lazy time interacting with his fans on social media, when he felt an eerie presence. Startled, he sat down on the sofa without realising Shashi is merely inches away from her. After a rather nervous introduction, the two complemented each other with phrases like "pretty" and "handsome." Much flirting-shirting huh, Shah Rukh? Shah Rukh also tricked Shashi into a kiss and we can't tell who appeared to be happier.

However, Shashi was not visible to Shah Rukh
and hence, neither to us in the video but their conversation made up for it. Shah Rukh sure could relate to Shashi as he himself featured as a ghost in 2005 film Paheli, opposite Rani Mukerji.


Anushka Sharma made her acting debut with Shah Rukh Khan in 2008's Rab Ne Bana Di Jodi
. Anushka and Shah Rukh have also co-starred in 2012 film Jab Tak Hai Jaan
. Shah Rukh, who featured in a cameo in Anushka's Ae Dil Hai Mushkil
, is currently shooting for an Imtiaz Ali film, also starring Anushka.

Ahead of Shashi's venture, she shared an update of sorts on Twitter, writing: "Kya Mannat ki oonchi dewaarein rok payengi Shashi ko?"

This is what Anushka tweeted:



Apart from Mannat, Shashi has also travelled through space and time, literally. There's proof on Anushka's Instagram. Shashi was with Veeru and Jai during their famous bike ride
and was also on the moon with Neil Armstrong.
https://www.instagram.com/p/BRVeKf0jvLU/embed/captioned/?cr=1&v=7
https://www.instagram.com/p/BRLKdx2j_Z_/embed/captioned/?cr=1&v=7


Directed by Anshai Lal, Phillauri releases this Friday. Also starring Punjabi actor-singer Diljit Dosanjh
and Suraj Sharma, Phillauri is Anushka's second project as a producer and is set in Punjab.

Spooky or not, Anushka Sharma's promotional strategy for Phillauri is surely something fans look forward to. So, be ready for an unexpected visit from Shashi because you never know.